Kids to get short shrift again?
Despite having won the House back and increasing their margins in the Senate, it seems Democrats are coming up short in delivering on some important measures which they insisted they would pass once in control.
An Early Childhood Education Amendment to the state constitution is the latest piece of progressive legislation languishing in limbo.
And it appears a few Democrats are responsible.
As The Candle reported last week (click here for previous story), the Chair of the Business and Industry committee has been shrinking the Democrats chances of passing legislation important to working people, or at least carrying the buckets for the business lobby to water down the bills.
The failure of the Early Childhood Education Amendment would be an unacceptable blow to progressive advocates for kids.
And that old stick in the mud mentality seems to be paving the way once again for New Mexico to drive opportunity into a ditch.
"It could dry up the permanent fund," Representative Candie Sweetser of Deming told veteran reporter Steve Terrell of the Santa Fe New Mexican (click here for his story), regarding House Joint Resolution 1 (HJR1), which would require that money be set aside from land grant endowment funds for early childhood education.
Sponsored by Democratic Representatives Moe Maestas and Javier Martinez, as well as Senator Michael Padilla (all of Albuquerque) this is a measure that few argue would not produce great opportunity for New Mexico's kids – but some legislators and business leaders just don't want to pay for it, using trump-ed (the pun is definitely implied here) up arguments that the state would go bankrupt, or something just short of that.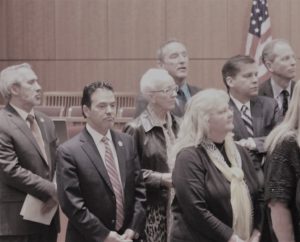 Ms. Sweetser apparently is one of those legislators. (Click here for an earlier article in The Candle regarding opponents of this early childhood education.)
In as much as Sweetser is a rookie, one might be inclined to give her a bit of a pass on such a simplistic response to a serious matter.
However two things must be weighed here: first – she is possibly the deciding vote in the House on whether the public gets to vote on this measure; second – it would seem she spent more time composing a cute song for carrying her first bill (a task new representatives are expected to perform as some sort of legislative hazing) than she did researching the costs and benefits of this important legislation.
Her off-Broadway debut was set to the tune "I'll be working on the railroad, all the live long day."
Reviewed by Speaker Egolf – a Broadway wanna-be himself – as the best performance to date for the 2017 Session, Sweetser might be considered a rising star.
But her knee jerk opposition to the early childhood education amendment is a reminder of the need to get serious. It has the potential to condemn too many New Mexico kids to a future experienced by the laborers who built the railroads 150 years ago – low wages and hard living.
Unfortunately Sweetser is not the only Democrat that seems content to settle on a simplistic assessment of cost versus benefit regarding HJR 1.
At least three of her House Democratic colleagues are rumored to be holdouts on this early education resolution.
Representatives Debbie Rodella (D-Espanola), Carl Trujillo, (D-Santa Fe) and Patricio Ruiloba (D-Albuquerque), along with Senate Finance Chair John Arthur Smith (also of Deming), are all rumored to be potential conspirators in the derailment of this important measure.  
It's not news that the land of enchantment has lost its allure – ranking last or close to last for every important socio-economic measure used to assess quality of life.
If New Mexico is going to crawl out of the economic abyss it finds itself in, and provide a future for its kids, then the public will need to shake things up a bit.
People need to call these legislators who myopically assess important proposals as is embodied in HJR1. Let them know you are watching how serious they are about New Mexico children's future.
Click here for another posting by The Candle regarding the merits of early childhood education.