Representative Debbie Rodella – Queen of denial.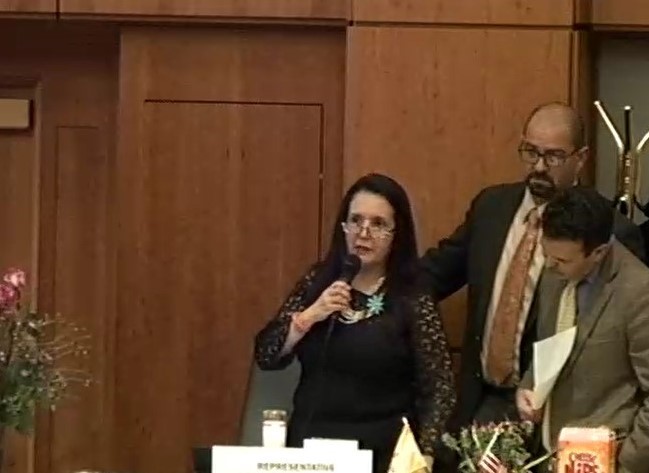 With fellow Democrat Jim Trujillo sidelined from the House of Representatives while recovering from hospitalization, Debbie Rodella, Chairwoman of the House Business and Industry Committee, seems to have aligned herself with Republicans in denying some key Democratic initiatives.
When it comes to any help for working people and their kids, Rodella and Republicans can kill or weaken whatever they want in her committee.
Rodella's name has been the most consistently mentioned by other Democrats and advocates as the person preventing movement on a serious minimum wage bill, an increase on alcohol taxes, and the health security act (which advocates say is key to preparing for the downside of any drastic changes in Obamacare) among other matters.
She is also frequently mentioned as willing to vote against an early childhood education initiative if she does not get her way, even on unrelated matters.
Rodella's Business and Industry Committee has effectively derailed a colleague's bill legalizing the recreational use of marijuana.
Rodella argued against the marijuana bill, citing the history of  drug dependency of so many people in the communities she has represented for more than twenty years.
But for someone concerned with drug abuse, she is giving the alcoholic beverage lobby a pass on seeing their taxes go up to help offset the enormous state and local government costs of dealing with drunk driving and general alcohol abuse, which also runs rampant in her northern New Mexico district.
It appears Rodella has engineered a minimum wage bill favoring the Republican and business community position, with a lower minimum hourly rate and eliminating a provision allowing an annual cost of living adjustment.
And late last week she was the person most responsible for getting the Health Security Act sent back to committee even though it had reached the floor for full House action. After her questioning and referral back to committee, Rodella was seen walking to the Republican side of the House seemingly accepting congratulatory hugs. 
The Health Security Act is now expected to come out of the Appropriations committee seriously watered down.
On Thursday evening, Rodella and two other Democrats on her committee aligned themselves again with Republicans, this time in a floor vote against a Democratic proposal to place a moratorium on starting new charter schools for the next two and a half years, in order to deal with the loss of revenue for public schools.
Those three Democrats handed the Republicans victory on a tie vote.
Other Chairs of committees looked on as Rodella added to her acts of defiance towards the efforts to try to raise New Mexico from the bottom of a growing list of reports on the quality of life in the fifty states.
After Thursday evening's vote on the charter school moratorium bill, it became evident that Representative Rodella feels she is untouchable when she aligns herself with Republicans against the agenda advocates for working families have laid out.