House Labor Committee to hold Saturday hearing on RTW and P3's.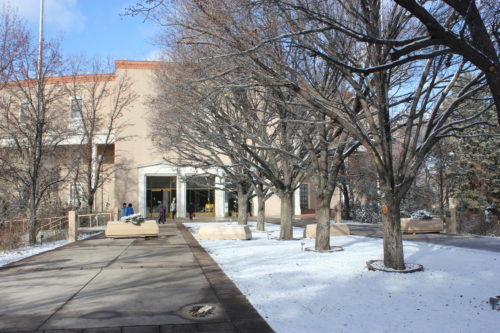 Two House bills which are anathema to the organized labor community are scheduled to be heard before the New Mexico House Labor and Economic Committee this morning (Saturday, February 25, 2017), in the House Chamber at the Roundhouse (the State Capitol building).
House Bill 275, filed by Representative Larry A. Larrañaga – (R) Albuquerque, would set the wheels in motion for so-called public-private partnerships (P3's) to be the wave of public construction and very possibly the running of many state services in the future.
Larrañaga, who fancies himself an expert on almost everything if you spend any time listening to him during committee meetings and floor debate, is himself a rancher and engineer (apparently retired), and has been the P3 champ for the past several years.
P3's are viewed very suspiciously by labor folks, because they tend to displace public employees from jobs filled by 'contract labor.' Unions are usually pushed aside from being able to protect employees during the construction of projects and in the eventual maintenance operations of many P3 project .
Also of concern by folks concerned about public policy and protection of the public interests is the potential for private partners to suck out the marrow of a public enterprise operation and leave government with a brittle and splintered skeleton of operation that needs a further publicly financed bail out.
The second item the committee will be hearing is HB 432, the so-called Employee Preference Act. This Right to Work measure has seen its days of success in the House (when the Republicans controlled the place) hopefully dwindle to this morning's hearing and then get voted down in committee.
After all the Democrats control the place now and should be able to defeat handily any legislation that interferes with New Mexico workers' chances to be protected from abusive employers.
But it seems it has become anyone's guess as to how strongly the Democrats are united in protecting workers and working families, as several Democratic House members have been voting with and like their Republican colleagues for the past several weeks, both in committee and floor meetings.
So it behooves workers to get their collective butts to the Roundhouse this morning and make their presence felt – even if the Democratic leaders should have dispensed with these bad legislative initiatives already.
There are also two other committees meeting today on a Republican's omnibus (so-called) tax reform measure and various charter and public school related bills. 
Here is the schedule and location information for today's House Committee Meetings:
HOUSE LABOR AND ECONOMIC DEVELOPMENT COMMITTEE – BILL MCCAMLEY, CHAIRMAN
Saturday, February 25, 2017- 9:00 AM – HOUSE CHAMBER
HB 275 – PUBLIC TESTIMONY ON PUBLIC-PRIVATE PARTNERSHIPS ACT
HB 432 – EMPLOYEE PREFERENCE ACT 
---
HOUSE TAXATION AND REVENUE COMMITTEE  –             JIM R. TRUJILLO, CHAIRMAN
CARL TRUJILLO, ACTING CHAIRMAN 
Saturday, February 25, 2017- 8:30 AM – Room 317
HB 412 – TAX REFORM 
---
HOUSE EDUCATION COMMITTEE – STEPHANIE GARCIA RICHARD, CHAIR
Saturday, February 25, 2017 – 1:30 PM – Room 309 
Seven bills dealing with College Sexual Assault Training, Charter Schools, Innovations in Teaching, Eliminating of Some School Reporting Requirements, and a few other matter. 
---