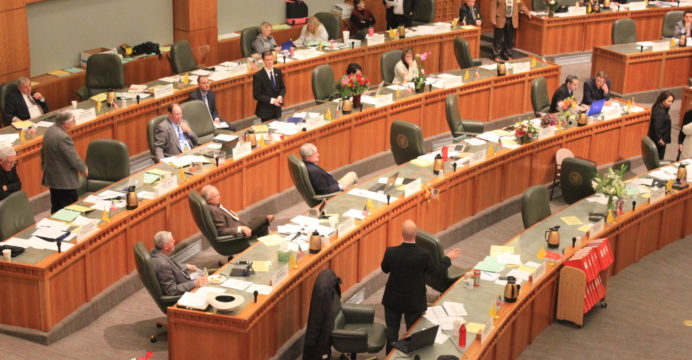 Five days left. C'mon Legislators: "Show us how big your brave is!"
Monday, March 13, 2017.
(Look below for links to the House and Senate Committee agendas and Floor Session calendars for today.)
There will be 123.5 hours left to the 2017 NM Legislative Session when the first committee chair bangs his or her gavel today at 8:30 AM.
Five and a half days (almost).
As of 5:34 AM, today (Monday, March 13, 2017) there have been seven (7) bills that are Chaptered – that means passed by the legislature and signed into law by the governor.
For a session that has seen a combined total of 1,115 House (577) and Senate (538) bills filed that is a batting average of, well why bother to figure it out (.006) … hell why bother to get up to bat.
If you look at the season ahead for New Mexicans, unless a miracle happens in the next 123.5 hours, it is a forgone conclusion that once again the state will finish in last place.
If you were New Mexico state government's coach you'd be thinking "maybe I should start the team's mascot – the roadrunner, and some high school student council presidents from around the state."
At least they may have some new ideas, and a belief that the state can move forward, instead of staying stuck in the mud.
Yeah, the house and senate have each passed a budget, and will likely concur on a final version and send it along to the governor. 
Big deal … it is anything but inspiring.
Legislators, and their apologists from the political class, are already congratulating themselves for treading water while standing in a little pond where the water barely reaches their knees.
'We saved the state from drowning,' will be their likely explanation for an overall pathetic performance by a group of people who came to power back in November claiming they were going to change things.
They let the 'I'll veto anything progressive you send me' governor whip them into submission.
Every state around New Mexico is thriving and all these politicos do is make promises and offer excuses.
Well they still have time to show us some courage and pass some meaningful legislation to turn around the economy; get the early childhood education amendment through the senate; pass a real Health Security Act in the house (not the placebo bill they have on the calendar as a substitute); put the patient safe staffing act on the governor's desk; enact some progressive revenue raisers; give hard working teachers and state employees a modest pay raise; and pass a serious minimum wage bill.
Come on Democrats, to paraphrase Sara Bareilles' uplifting lyrics:
"Show us how big your brave is!" – (Click here for YouTube link to song. )
---
Click here for the link to the House Committees schedule/agenda for today.
Click here for the link to the Senate Committees schedule/agenda for today.
Click here for the link to the House Floor Calendar for today.
Click here for the link to the Senate Floor Calendar for today.
---
Here is a listing of the seven bills the legislature and the governor have finalized.