State Orders Pepperell Town Clerk to Hand Over All Records About Gravel Pit Proposal
Sunday, July 15, 2018
Pepperell, Massachusetts – BREAKING NEWS. The Massachusetts Secretary of State's Public Records Division has ordered Pepperell town clerk Jeanne Survell to provide a Pepperell resident all the records the town has in its possession regarding a controversial gravel pit reclamation proposal.
Carline Ahdab has been asking for several months that town officials make public all the records regarding the proposal which could cause as many as 50,000 trailer truckloads of fill from construction sites throughout New England to be hauled to an old gravel pit.
The pit is located in Pepperell near several residential neighborhoods and adjacent to the Nashua River.
Ahdab filed an appeal to the Massachusetts Secretary of State's (SOS) office when she realized, after weeks of excuses given by town officials, that the records she was provided were likely not all the town held.
The Candle has also received excuses and foot dragging in seeking answers about what occurred at ostensibly private meetings that the former town administrator and former town planner held with proponents of the gravel pit reclamation proposal.
These former town officials, according to members of the board of selectmen (there bosses), did not inform board members of the project for more than five months.
Below is a picture of the pertinent paragraphs in the order from Rebecca Murray who is the supervisor of records for the state's public records division: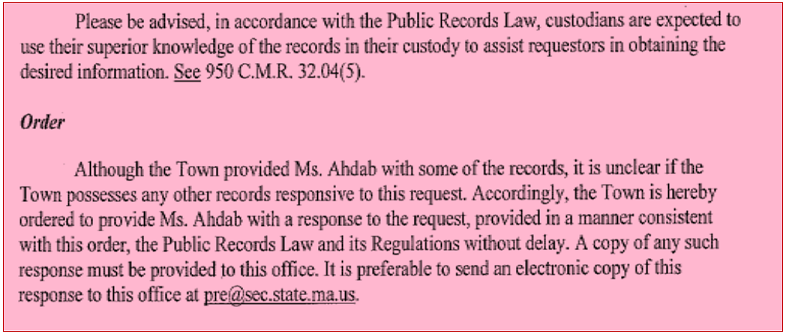 This story will be updated in the morning.
The Candle will provide more information about documents released to Ahdab after Survell received the order from the state.
However, there are other documents related to this project, still believed to be withheld from the public or missing from town files, despite the order from the state.
And there are inconsistencies in the responses the former town planner and former town administrator have given about the project and their interactions with the proponents.
A copy of the ORDER from the Secretary of State's office can be seen by clicking here.