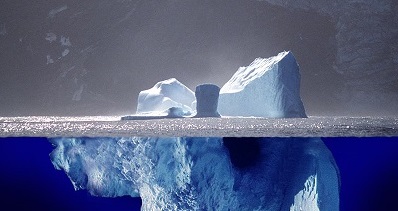 Tip of the Iceberg? Skandera Reform, In the Court of Public Opinion. Part 2.
Editorial note: While the format of this series is that of a faux court filing, the facts are nonetheless the facts. Much about New Mexico's flirtation with school reform over the last six years has not been closely monitored, particularly regarding who are the real beneficiaries of millions of dollars spent under the radar – the children of the state or the contractors and insiders of a complex financing scheme used to benefit cheerleaders of a controversial movement and leader? It's time that former Education Secretary Hanna Skandera's Reform gets its day in the Court of Public Opinion.  Judge for yourself.)
THE PARTIES
(Part Two)
"…For every decision that needs to be made, we will ask, 'Are New Mexico students the winners in this decision?'"
Words from New Mexico Education Secretary Hanna Skandera in January 11, 2011, as she announced: "Kids First, New Mexico Wins."
 44. When Hanna Skandera announced her "Kids First, New Mexico Wins" she also stated: "Our focus must be on the classroom, ensuring greater transparency and fiscal accountability while understanding the unique characteristics of our state, communities, districts and schools…"
45. As described in the first installment of this series, two of the key players in the procurement scheme which enriched insiders at PED and Skandera policy cheerleaders, were the Region 9 Education Cooperative (REC 9) and the Southern Regional Education Board (SREB). [Click here for link to Part One.]
When it Comes to Transparency, Actions Speak Louder than Words. 
46. The New Mexico School Leadership Institute (NMSLI), was a third organization that made out well from the scheme, at least for one fiscal year – as did its director for several years after.
47. NMSLI was created by the New Mexico Legislature in 2010, to, "… provide a comprehensive and cohesive framework for preparing, mentoring and providing professional development for principals and other public school leaders." 
48. The idea behind its creation was to boost the training opportunities for people filling, or aspiring to fill, roles such as principals and superintendents of New Mexico's public schools. 
49. But before it could really get started, much of NMSL's mission was co-opted when newly appointed Public Education Department (PED) Secretary Skandera brought forward components of her 'Kids First, New Mexico Wins" plan.
50.  In an upcoming section of these pleadings, our reporting will explain in more detail how NMSLI was used by the PED, REC 9, and SREB, to increase costs for services that could have been provided at a fraction of what the state finally ended up paying – a part of the scheme which was, and continues to be, financially beneficial to SREB, REC 9, and the director of NMSLI, and her team of former NMSLI consultants.
51. There are some other institutional players which benefitted by the procurement scheme developed by PED, REC 9, SREB, and for a short time with NMSLI.
52. However we will name those companies and organizations and discuss their secondary roles later, in the "FACTUAL ALLEGATIONS AND BACKGROUND" chapter of these pleadings.
53. But next we want to introduce the people considered parties who personally benefitted from the procurement scenarios they helped create and/or administer. 
A Cast of Highly Paid Educational "Coaches."
54. Linda Paul, Ph.D., is a former school superintendent, former NMSLI Director, so-called education consultant, and (subsequent to retiring as NMSLI director) SREB consultant.

55. Paul designed a contract through which NMSLI was to provide "216 Days of Coaching and Training Support to include Year 2 Training for Administrators and Facilitation of Calibration Events."
56. But instead of NMSLI contracting directly to PED for the services, she had NMSLI perform the services she designed as a SUBCONTRACTOR of SREB – which then added a 10% fee on top of the NMSLI charges.
57. Linda Paul charged a rate of $3,000/day for the services she and her cadre of consultants provided as a SUBCONTRACTOR to SREB. The total referred to in the SREB contract with REC 9, for the NMSLI SUBCONTRACT, is listed at $665,520.00.
58. Sometime near the end of the NMSLI SUBCONTRACT with SREB, Linda Paul and/or her own consulting company, was hired by SREB to do what appears to be the same work – all of the work performed would have been within the scope of the original legislative mandate of NMSLI, likely at less cost than what the state ended up paying SREB through the REC 9 scheme.
59. Paul was not the only former public school educator with PED connections to benefit from the SREB contracts. Donna "Lexi" Miles was another. She is listed in the 2010-11, New Mexico School Personnel Directory as a principal with the Bernalillo Schools (where she was a colleague of Matthew Montano who, as we wrote previously, "in his new position for the PED … operated like a young Michael Corleone, and … established himself as the 'godfather' at PED, providing protection and rewards to favored colleagues …").
60. Ms. Miles was also a principal of the Los Puentes Charter School; and a "contracted instructional coach from NMPED's NMTEACH assessment department…" hired by the charter school, Albuquerque Talent Development Academy, from March to May of 2015 – a period of time during which she was also working the NMSLI contract for NMTEACH related services, and also according to SREB invoices to REC 9, was working as consultant or staff person directly for SREB.
61. Miles appears to have been a PED employee for a short time (Ms. Miles refuses to answer requests to either confirm or deny that she was employed by PED, as well as questions asking if she is the owner of Miles Consulting – which became an REC 9 contractor for NMTEACH related work).
62. While Montano may have played a role in Miles being hired at PED, he definitely had a role in Miles getting contracts for her education consulting company through REC 9, as evidenced by email correspondence, including this message from Montano's second in command, Susan O'Brien Assistant Director, Educator Quality Division New Mexico Public Education Department to Donna Miles on April 30, 2014:
"I am writng to alert you that I have initated the contract process for your work with the NMTEACH Educator Effectiveness System. You will be receiving documents from Kim King at REC IX. Please return these ASAP so the work discussed with Matt Montano may began." (Emphasis added.)
63. And Miles and Montano have a connection via NMSLI, as they are listed on the referrals page of the NMSLI website (see image below).
64. The Candle will report in another story on the compensation Miles and her consulting company received from NMTEACH and related services at rates charged the state ranging from $500/day (a handheld of charges), $1,000/day (many charges), up to the $3,000/day – with some of the days for which her work was supposedly performed being charged and paid for by the state under two different contracts, one at the rate of $1,000/day and the other for $3,000/day.
65. When Miles and Paul left NMSLI in 2015, they continued work on NMTECH projects for SREB – at least through much of 2017. 
66. The Candle has not received copies of the final invoices for FY 2017, SREB contracts with REC 9, but the third quarter invoices both list Miles and Paul as "Paid Consultants" and SREB charging REC 9 for each, at rates of $1,500/day and $2,200/day. And Montano remains a constant in the enterprise – the go to guy at PED for contractual matters for Miles, Paul, SREB, and some others.
67. As these former NMSLI associated individuals continue to work for SREB, NMSLI seems to have been put in moth balls at UNM's College of Education.
68.  And while the rates may have dropped from the $3,000/day NMSLI was charging the state by way of SREB and REC 9, charges continue to mount – many as high as $2,200/day for the PED NMTEACH related services – resulting in millions of dollars spent for consultants, supposedly helping kids learn – even though after five years, New Mexico still sits at the bottom of state rankings. 
69. Later in this series, The Candle will focus on the damage to the public schools, when PED opted out of closely working with the state's higher education community to improve public school leadership, and instead chose to reward insiders and cheerleaders of the Skandera programs, through mechanisms engineered and executed by Skandera, Montano, and others at SREB and REC 9. 
---
Click the headlines below for other related stories in this investigative series.