Senator Martin Heinrich issues strong statement endorsing rural economic development funds.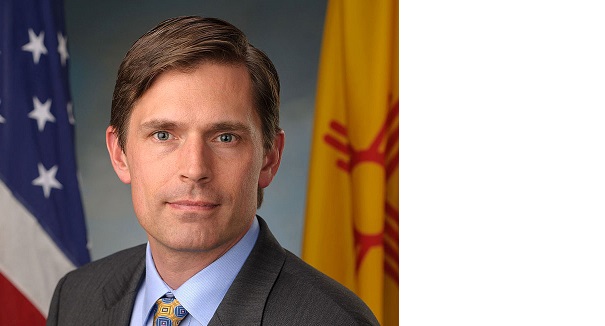 Update to earlier filed story: Senator Martin Heinrich's Washington staff followed up our request for his remarks regarding an earlier story (click here for earlier story) on the letter sent to President Trump by twenty-nine US senators requesting that the new administration reconsider its plan to cut agricultural and rural economic development funding by $231 billion, by issuing the following statement:
"To answer your question … Senator Heinrich supports full funding for Rural Development programs, including maintaining the USDA programs that the Trump administration wants to eliminate like USDA funding for water and wastewater infrastructure projects and USDA's small business programs. He also supports efforts to maintain the Under Secretary for Rural Development at USDA."
According to Heinrich's spokeswoman Vanessa Valdivia, besides supporting matters contained in the letter, Senator Heinrich, in his role on the Senate Energy and Natural Resources Committee, "has fought for reliable funding for rural counties, including Payment in Lieu of Taxes (PILT) and Secure Rural Schools (SRS) programs. He recently introduced bipartisan legislation to restore urgently needed federal funding for vital resources in rural counties in New Mexico and across the country."
In a statement released last month Senator Heinrich pointed to examples such as exist in Cibola County, where "county officials have had to eliminate all road improvement projects—and will even need to cut back on routine maintenance on school bus routes."
"New Mexicans rely on funding from the Secure Rural Schools program, which helps pay for essential local services like emergency response, education, and transportation.
"We can't leave rural communities hanging. Rural counties need these programs, they need them to be reliable, and they need them now," according to Heinrich.
Heinrich joined Senator Orrin Hatch (R – Utah) and Representative Cathy McMorris Rodgers (R – Washington) in filing the bi-partisan bill which:
Reauthorizes SRS payments for 2 years—retroactively, to make counties whole for their FY2016 payments and FY2017 (payment goes out in 2018);

Clarifies the use of unelected Title II funds;

Eliminates the merchantable timber pilot requirement;

Clarifies, through a technical fix, the availability of funds per section 207(d)(2); Extends the time available to initiate Title II projects and obligate funds for the 2-year reauthorization; Title II and III Elections: For the 2-year reauthorization, there won't be enough time to go through the administrative process of the counties changing their elections and still getting their payments on time, so for reauthorization, the counties have to stick with their current elections;

Requires an acceptable offset to pay for the cost of the program to be identified.
(Click here to read a copy of the bill.)
Heinrich's staff also pointed out that in the recent budget bill to fund the government through September, he and Senator Tom Udall (D – NM) "helped secure key funding for rural New Mexico, including:
Federal dollars for LWCF, emergency firefighting, Gold King Mine cleanup, and full finding for PILT to pay for essential services like schools, roads, and public safety.

Water and Waste Water loans, which are critical to a number of rural New Mexico communities, will receive stable funding at $1.25 billion, while general Water and Waste Disposal grants will be increased by $27.6 million to $392 million in this agreement.

Key investments in rural business, including rural business development grants at $24 million and guaranteed business and industry loans at $920 million. Value-added market development grants are increased from $10.75 million to $15 million — this program has been successfully used by a number of New Mexico producers to create jobs in New Mexico."
The Candle is still awaiting an answer from Senator Tom Udall's office to our question earlier today regarding the letter referred to above, and will publish it if it is received.