Unemployment: New Mexico just became worst in USA at keeping people employed.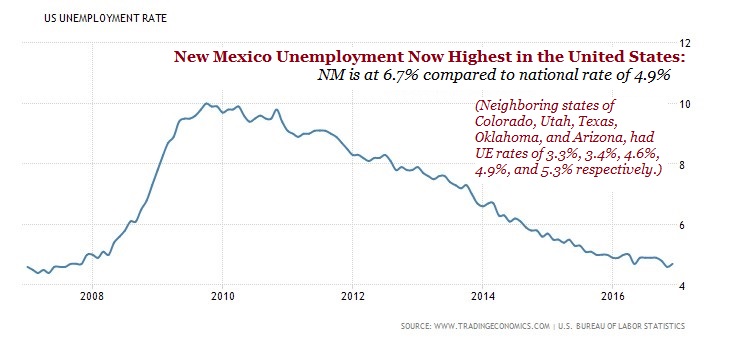 Another reminder for legislators to seriously advance a real economic development and revenue program to the governor's desk regardless of her threats to veto:
New Mexico now has the HIGHEST UNEMPLOYEMNT in the USA.
24/7 Wall Street filed a story yesterday, February 28, 2017, stating:
"With 2016 unemployment rates of 2.7%, New Hampshire and South Dakota replaced North Dakota as the states with the lowest unemployment rates — the Bureau of Labor Statistics reported on Tuesday. New Mexico's 6.7% unemployment rate is the highest in the country, pushing West Virginia and Nevada out of that position."     – Emphasis added.
State of New Mexico officials cannot blame this on a national economic situation, because the national unemployment rate dropped from 5.3% in 2015, to 4.9% last year – which just ended.
While the nation as a whole saw a decline in unemployed persons, New Mexico's ranks of those without a job increased from 6.6% to 6.7% giving the state the distinction of having the worst record in employment opportunity.
The legislature has yet to deliver to the governor a single bill of the "six bills in ten days" promise made in January. That was a proposal, a promise of sorts, made by Democratic Senator Clemente Sanchez and colleagues at an economic and job development press conference made in January – near the beginning of the sixty day session, which is about to enter its last two weeks.