Here we go again … New Mexico job growth 3rd worst in Nation.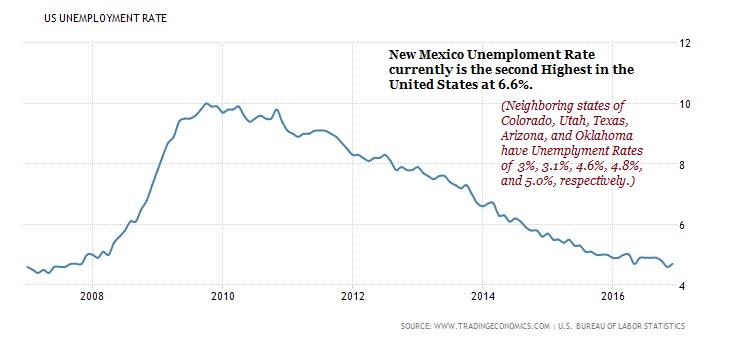 Another New Mexico hardship … The land of enchantment measured third "worst" of all states on a listing of job growth since 2007.
24/7 Wall Street released a report Monday, January 30, 2017, rating job growth across the country since the Great Recession.
New Mexicans know all too well how tough it is finding good paying jobs.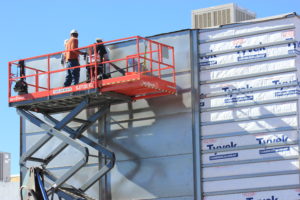 And according to the 24/7 Wall Street report, the loss of jobs in the construction industries was particularly devastating in New Mexico:
"Indeed, of the states that lost jobs in the last 10 years, manufacturing was the biggest drag in three — Connecticut, Maine, and West Virginia — while construction shed the most jobs in the remaining four: Alabama, Mississippi, New Mexico, and Wyoming."
However as the state legislature and the Governor fight over the state budget, it is still not clear either branch of government is willing to fight for a dramatic and bold economic package.
As The Candle and other news outlets reported last week, Democrats in the state House and Senate held a press conference announcing a six point plan to turn the economy around.
They billed it as a job creation effort.
But the best they could do with pinning a number on the amount of jobs their plan would create was, "lots."
The sixty-day session is two weeks old, and not much has happened other than the passage of a so-called solvency package to address an out of balance state budget for the current fiscal year, which solved the shortfall by cutting more and sweeping dollars from departments already strapped.
While New Mexico failed miserably, three of its neighboring states were in the top five for job growth:
Texas – second place;
Utah – third place; and
Colorado – fourth place.
Oklahoma and Arizona came in 28th and 38th places respectively.
(Again, New Mexico came in 48th place.)
Here is the report 24/7 Wall Street wrote regarding New Mexico:
New Mexico
10-yr. employment change: -2.2%

Employment change: -18,600

Dec. unemployment: 6.6%

Total employment: 830,500
"New Mexico has shed some 18,600 jobs since 2007, a 2.2% employment decline. Over the same time period, the state's unemployment rate has increased by 2.6 percentage points, the largest 10-year increase of any state. Today, some 6.6% of New Mexico's labor force is out of a job, a far higher share than the 4.7% national unemployment rate. As jobs have become increasingly scarce, serious financial hardship has become all the more common in New Mexico. The share of state residents living in poverty increased from 18.1% in 2007 to 20.4% in 2015."