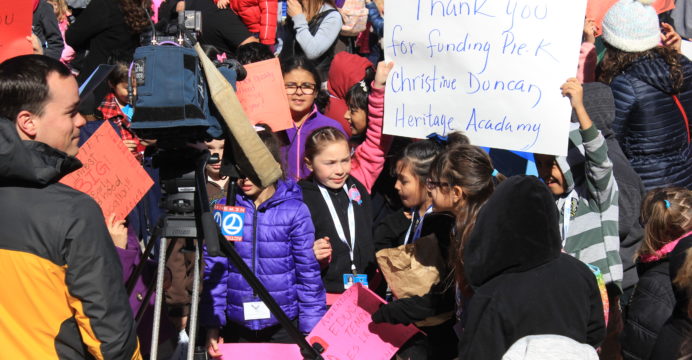 A hero to New Mexico's kids – Representative Jim Trujillo – You can't keep a good man down.
Last evening the kids of New Mexico got a big lift from one of the old guard.
Democratic State Representative Jim Trujillo of Santa Fe, made an unexpected visit to vote on a measure that is very dear to his heart – the Early Childhood Education Amendment.
It was particularly poignant because Trujillo is recovering from heart surgery and was not expected back for the remainder of the sixty-day session.
His presence was also important, as it passed by two votes.
In another surprise, Republican Representative Yvette Herrell of Alamogordo voted with all (but two) Democrats to ensure the amendment's passage in the House.
It goes to the Senate now, where it will have an uphill battle given the Chair of the Senate Finance Committee, John Arthur Smith (D-Deming) has consistently opposed the resolution.
While it was only one of a few that have advanced of many progressive matters that have got bogged down, it was a sign that some good things could still happen for working families.
But that will take some more heavy lifting by the Democratic leaders.
In another move, the House endorsed a modified version of an omnibus so-called tax reform bill that was primarily crafted by Republican Jason Harper of Rio Rancho.
House Bill 412, originally contained language which would have brought back the food tax, but the substitute measure voted on with strong bi-partisan support, eliminated that version.
It is chock full of a multitude of changes, many which are still being deciphered by not only the public, and the media, but likely by a lot of members who voted for it with very little discussion or debate.
The Candle has heard from some folks involved in the process who are still concerned about the reappearance of the food tax once it is dealt with in the Senate, as Senator Smith apparently proposed at least a 1% food tax in a meeting of legislators and the governor yesterday.
More on this later.
The other unofficial information The Candle has unearthed is that the Health Security Act will likely not make it back out of the House Appropriations and Finance committee (HAFC) without a huge push from progressives.
But for today: Congrats to House Democrats for getting their votes together for the Early Education Amendment … how about spinning that victory into a few more this week … maybe surprise folks and pass the Health Security Act despite the rumors it's been waylaid by HAFC?