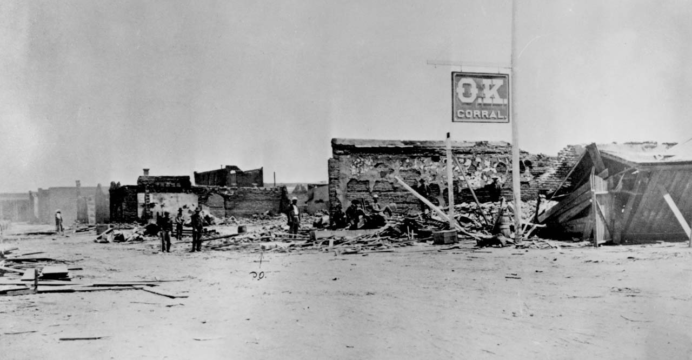 Showdown over Government shutdown?
Guv's Chief of Staff claims Dems are "pushing for a government shutdown.
Is it going to be a political version of the showdown at the OK corral?
Who are the players?
Which version of the state budget crisis do you believe?
It's all about to play out at the Roundhouse in the next few days, as the legislature, after weeks of sputtering finally got a budget, with a needed revenue package to accompany it, sent along to the fourth floor – for Governor Martinez to either accept, line-item veto, or just plain reject in its entirety.
The drama has been building for weeks, with Martinez vowing to veto any tax increases, and opting for cuts, while legislators, led by a Democratic majority in both the House and Senate, insisted there could be no more cutting and outlined the need for new revenue sources.
Friday the governor's chief of staff, Keith Gardner, while claiming his boss wanted to work together, came out swinging stating the governor "is willing to work together, to ensure that we have broad base reform; that we have broad base changes in how we do business in New Mexico.
"When it comes to the tax package … we've talked about this all along, we're glad to work together. But let's have broad base reform. Those are not present in these bills [budget and revenue bills]. And so we're going to continue, but frankly what they are doing is pushing for a government shutdown … they're going to say 'it's my way or the highway, that's what the Senate's response has been. We're not going to negotiate' … that's not appropriate, that's not fair to the taxpayers of New Mexico.
"I think what you are seeing is that we're going to have to come back if they don't get something in the next 24 hours.
"And hopefully at that point in time they'll want to do real reform, they'll actually stay true to their word."
The problem is the Democrats have cut it so close with their revenue package any rejection of it may put the entire budget out of balance – which means a possible Special Session.
All through the session the Democratic leaders ran away from campaign promises of 2016, when they claimed they were going to be bold, and bring new life to New Mexico's economy, and spent the entire session hemming and hawing before finally getting something delivered yesterday (the last full day of the 60 day session).
Gardner took his opportunity to accentuate the failure of the legislature to get anything going early by mocking the Democrats at a quickly called press conference where he suggested their excuses would run along the lines of  "…you know we tried. We gave it our best shot. We spent sixty days of the taxpayers' money to be up here, we celebrated posole, we celebrated tamales, we talked about a few songs, we've done a lot of things, we've had special interest come in … as you saw with the broad base tax reform [HB 412] special interest come in and we immediately cower to that, oh we can't do that, there are going to be too many people we're going to upset."
For their part the Democratic leaders issued this statement by Speaker Brian Egolf regarding the passage of final version of the budget and revenue package:
"Over the last two years, New Mexicans have seen drastic cuts to schools, behavioral health, and higher education, because the Governor and House Republicans have refused to consider reasonable and responsible revenue solutions. Our budget safeguards the top priorities of hardworking New Mexican families – education, health care, economic development, and other vital services. This budget and revenue package makes long-term investments in the future of our state and the next generation of New Mexicans. By making our tax system more fair, we can mitigate further cuts to critical services, minimize impacts on hardworking families, and make the New Mexico economy work for everyone. The elements of the revenue package are fair and broad-based. We are leveling the playing field for local businesses, blocking a corporate income tax cut, and generating critical revenue for roads and schools."
Unfortunately claims from both sides fall short of being honest about the impact their respective budget approaches will have on working people and poor folks – of which there are many in New Mexico.
Any objective viewer when looking closely at both the Governor's solutions and the Democrats' budget for FY 2018, can see neither helps deal with the needs of working families, kids' education, teachers, state employees and the state's economic future.
Over the next several days, The Candle will be publishing a series of stories of who did what, who did nothing, who caved in, and what it all means to the state's hurting population.
For now, suffice it to say, both sides ought to come back in a special session, stop pointing fingers, and actually govern.