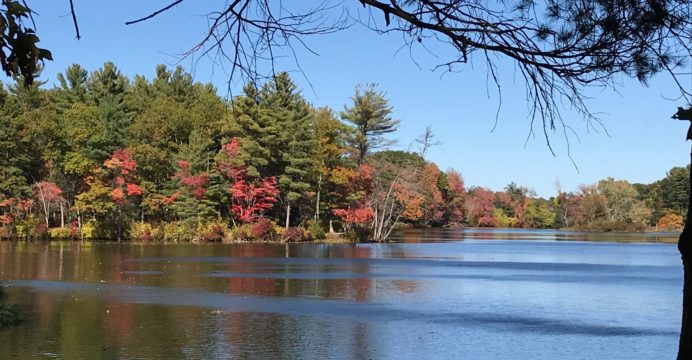 Pepperell Vision Quest – Imagining a Town's Future. Public Invited to Thursday Night Meeting.
Wednesday, September 12, 2018
 "Vision has no boundaries and knows no limits. Our vision is what we become in life." ― Tony Dungy
Pepperell, Massachusetts – Residents of Pepperell have an opportunity tomorrow night to offer their ideas – their vision – of what they want their town to become in their lives.
The Master Plan Advisory Committee is seeking input on matters of land use, housing, and economic development.
This is the second such visioning session, the first having been held in May, and at which between thirty and forty residents attended.
As outlined in a presentation entitled "Creating a Master Plan for Your Community" by Ralph Willmer, FAICP, Principal Planner for the Metropolitan Area Planning Council, and according to Massachusetts laws, "Planning Boards are required to prepare a master plan with the following elements: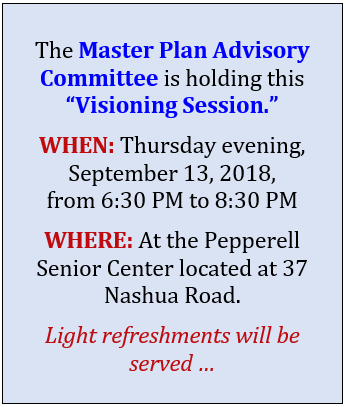 Statement of Goals and Policies
Land Use
Housing
Economic Development
Natural & Cultural Resources
Open Space & Recreation
Services & Facilities
Circulation
Implementation
Willmer further offers in his presentation that "Communities often supplement the requirements of M.G.L. c. 41, §81D by adding elements that focus on specific local needs or policy interests, such as:
Villages
Neighborhoods
Smart Growth
Energy
Climate Action
Sustainability
Education
Governance
Public Health and Social Services
The most comprehensive and successful master plans are those which thoroughly integrate the ideas of residents with those of local officials.
A master plan is a "community vision statement," created by assessing issues such as demographic changes, aging infrastructure, urban and rural lifestyle, social media, school population, climate change and energy issues, public health and transportation needs.
Typically master plan committees work from nine months to two years meeting with residents, conducting surveys, meeting town department heads and workers, and looking at what other communities might be "visioning" for their future. 
Members of the Master Plan Advisory Committee need to hear from residents of Pepperell so they can put together a real community vision statement. Thursday evening's meeting is an opportunity for that to happen
Below are some excerpts from the Master Plan executive introductions and summaries of several other towns in Massachusetts.
---
Groton
Sustainability and the master plan
"Sustainability is the overarching focus of Groton's Master Plan and a common thread in all of the plan's elements. To facilitate a wide-ranging discussion of sustainability, the Groton Planning Board adopted the well-known Brundtland Commission's definition of sustainable development, originally published in Our Common Future (1987): "Sustainable development is development that meets the needs of the present without compromising the ability of future generations to meet their own needs." – U.N. Documents Cooperation Circles: Gathering a Body of Global Agreements, Sustainable Development, Report of the World Commission on Environment and Development: Our Common Future, Part I, Chapter 2.I, "The Concept of Sustainable Development," http://www.un-documents.net/ocf-02.htm#I.
"… Groton Local, a non-profit organization, has worked on a range of sustainability issues such as energy consumption, local food production, and local businesses. Guided by a board and officers, Groton Local has sub-groups that focus on a particular aspect of sustainability. For example, the Farm to School sub-group connects local growers with schools, providing a market for locally-raised food and a nutritious food source for school-age children. The Energy/Green Building sub-group hosts monthly energy seminars on energy-related topics. This group has also done some work around building and supporting a local business base, but recently these efforts flagged when one of the group's leaders moved to another town …" 
---
Marshfield
"Over the last century, the coastal Town of Marshfield has transformed from an active commercial fishing port to an accessible and desirable residential community with easy access to Boston and other job centers in the greater Boston Metropolitan area. Residents appreciate Marshfield's scenic beauty, including its beaches, scenic marshland and rolling hills. The Town embarked on this effort to update its Master Plan to chart a future that builds on the Town's many assets while also addressing potential vulnerabilities.
"Residents appreciate the high quality of life in Marshfield including its solid performing schools, distinct residential neighborhoods, and abundant community amenities. This Master Plan creates a comprehensive framework for preserving and enhancing the Town's economic, natural, neighborhood, and cultural/historic resources through a series of actionable recommendations …
Climate Adaptation
"Many residents were very concerned about the impact of climate change in Marshfield, particularly with flooding and public safety. Residents noted the problem is larger than just the homes along the coast. The age and condition of the sea walls and the condition of the beaches are also serious issues facing the Town. Some felt that homes could be elevated, and there should be a plan for evacuation prior to major storm events. Residents had mixed reactions as to recreation. Residents generally felt that additional development negatively impact water quality. Due to water quality issues at the South River, residents favored a new overlay district that allows only certain uses along with environmental performance standards …" 
---
Greenfield
Introduction
"In 2012, Greenfield embarked on a journey that many communities undertake: development of a Comprehensive Master Plan. Having already made a commitment to principles and practices of sustainability, Greenfield wanted more than a traditional Master Plan. The Town wanted to create a Plan that established a path towards a more Sustainable Greenfield.
"Over 12 months, a passionate, committed group of residents, Town staff and other community stakeholders worked to craft a pathway for the future sustainability of Greenfield.
"The driving forces behind this Comprehensive Sustainable Master Plan are rooted in a commitment to preserving the small-town heritage of Greenfield while embracing changes that will allow sustainable renewal of the Town as the economic and cultural hub of the region.
"Greenfield's commitment is to preserve the richness of small town life by restoring some of the lost economic vitality to its downtown, by supporting its farming and food production and distribution economic sectors, protecting its natural environment, providing housing and educational opportunities for diverse groups of people, and by seeking to attract jobs and industry sectors compatible with both small town life and the economic realities of the 21st Century…" 
---
Concord
Background 
"In June 2016 the Concord Select Board appointed the 14-member Comprehensive Long Range Plan (CLRP) Committee and charged it with preparing a new comprehensive plan for the Town …
"The Committee's charge from the Select Board was to examine traditional areas of planning to provide the basis for guidance, coordination and accountability for future decision makers, and to integrate these traditional principles with Concord's sustainability principles and policies in a framework that promotes collaboration and coordination.
"To achieve this latter goal, the Select Board asked the Committee to use the framework and organizing principles and processes identified by the American Planning Association's Sustaining Places Initiative, with the intent that future decisions would be made on a more integrated and holistic basis …"
The Process
"The Committee, with the assistance of Concord's professional planning and finance staff, spent its first seven months collecting and assembling data. A planning consultant was hired in March 2017 to assist with analyzing and formulating the data, and in drafting the preliminary plan within the framework agreed upon by the Committee.
"Preliminary goals were established during this phase, with an effort to frame and prioritize the goals to allow integration with other municipal functions. The Committee viewed this integration as a critical step to optimize solutions and resources, and to achieve greater community support.
"A robust community outreach effort was incorporated throughout the process, including the use of surveys, open houses, focus groups, interviews, listening sessions, and public hearings. The Committee held over 50 public meetings over the course of two years, including public hearings on the draft plan in November 2017 and April 2018.
"Public comment and feedback was invited and welcomed from elected and appointed board, committee, commission and task force members and the general public. Many of these comments are reflected in the pages that follow.
"The Committee used both this public input and the analysis provided by committee members, the planning staff, and the consultant to identify key goals and mutual benefits across departments, which resulted in the substance of this plan." 
---
Newburyport
Executive Summary
Background
"Following three years of work by a group of dedicated volunteers, community members, elected officials and municipal employees, the City has articulated a strategy for its future. The entire master planning effort was led by a Steering Committee, consisting of individuals that represent a cross-section of the community and several smaller committees focused on each of the elements of the plan. These groups met several times throughout the course of this planning endeavor to consider how the City can meet its future challenges, from ever-increasing housing prices to aging infrastructure to resiliency planning for climate change and associated sea-level rise. Consideration of each issue in this plan involved a process of research, analysis, public input and debate, strategizing, drafting, editing and review.
"This Master Plan provides an overall development concept that promotes continued prosperity for the community and is intended to lend City officials, administrators and community leaders support in their daily efforts to manage and shape Newburyport's growth into the future. Newburyport's character and charm is likely to remain largely unchanged; however, trends in demographics, land use, housing, municipal finance, education and other areas will require proactive efforts to achieve a positive vision for this dynamic City. Each of the Plan elements presents the existing conditions, trends and goals with accompanying actions; these actions, when implemented, will result in a community that meets the needs and expectations of its residents while welcoming visitors, supporting local businesses, and responsibly and sustainably planning for the future." 
---
Below are links to the complete final document of each of the above referenced Master Plans.