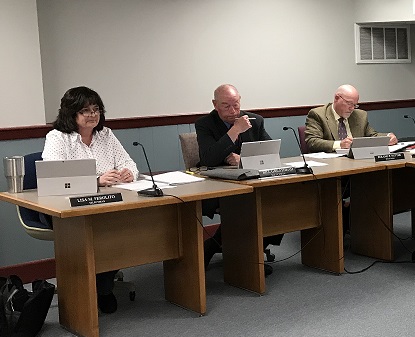 New Town Administrator Gets High Marks – BOS To Meet Weekly On Gravel Pit Reclamation Project, and More.
Board of Selectmen Meets Tonight in New Regimen
Monday, July 23, 2018
Pepperell, Massachusetts – At last week's board of selectmen's (BOS) meeting residents received an update from board members and the town administrator about how the town was going to respond to a proposed gravel pit reclamation project.
The project has the potential of generating more than 50,000 trailer truckloads of construction fill from around New England being transported and dumped at a defunct Nashua Road gravel pit.
Interim town administrator John Moak reported that he and town department representatives met with staff of the Massachusetts Department of Environmental Protection (DEP), to better understand the state process of approving such a project.
Moak also updated BOS members, Roland Nutter, Lisa Ferolito, and William Greathead and about sixty residents attending the meeting, on his expedited efforts to find legal counsel with experience in dealing with DEP permitting of gravel pit and quarry reclamation projects.
Moak  then sought and received a green light to hire the legal firm of Mirick O'Connell as special town counsel.
The members of the board also heard from residents who expressed concern about the project itself and the fact the BOS and the board of health were kept in the dark about the proposal by the former town administrator and the former town planner.
Several residents were concerned that information needed to be more available, and more regularly, given the history of this matter not being made public for several months.
Moak was complimented for his swift actions and his development of a strategy since coming on board just a few weeks ago.
His reporting to the public stands in stark contrast to the lack of communication from his predecessor.
Mike Levesque, a Nashua Road resident, suggested the board of selectmen meet weekly, instead of bi-weekly, as has been their general practice.
Chairman Nutter felt that was unnecessary unless there was new information.
But Ferolito and Greathead concluded more communication through a weekly meeting of the board was in order – especially given the desire of the public for up-to-date information.
Greathead suggested, "If there is not much new information, then it'll be a short meeting."
Ferolito noted town officials needed to win back the trust of the community.
She felt Moak's more transparent approach was a huge step forward, but also argued weekly meetings would be instructive. 
After discussion the board voted to meet weekly.
The new regimen begins tonight, with the Board of Selectmen meeting at the Senior Center, 37 Nashua Road, beginning at 7:15 PM.
The agenda is listed as follows:
Old Business
1.1              161 Nashua Road Project
1.2             Appointment Of Attorneys From Mirick O'Connell As Special Municipal Employee
There is another important meeting this week regarding the gravel pit reclamation project.
Tomorrow evening, Tuesday, July 24, 2018, the Board of Health (BOH) will meet at Town Hall (1 Main Street), in Conference Room A, beginning at 6:00 PM.
The BOH has two related items listed under item 7 on their agenda (as old business):
a.) Nashua Road gravel reclamation discussion
b.) Earth Filling Regulations draft discussion
The BOH has significant authority and rule-making ability under state law if the members of the board decide to act.
Some residents expressed concern at a previous meeting that the BOH had been late to respond to their concerns regarding the proposal, but are encouraged the subject of a creating an earth filling by-law was finally on the table.
At their last BOH meeting, one member of the board of health claimed they cannot adopt a by-law that would impact the Nashua Road project because the proponents had already started the process before the BOH acted.
That interpretation has been debunked, as other communities have adopted such by-laws and applied them to existing operations.
The right of the BOH to enforce a health and safety by-law to an existing project was also supported in a memo from Moak about the town departments' meeting with DEP, when he wrote: "… An encouraging statement by DEP, presently, landowners attempting to secure this Administrative Consent Order must abide by regulations of the town, and these regulations have been approved in several towns after the submittal of the proposal …"
Moak also coordinated departments in establishing an official town website page dedicated to providing information on the Soil Reclamation Proposal (click here for link to that page).