New Mexico Governor Quietly Gave Large Raises to Her Staff While Cutting Teacher and State Employee Raise
In a classic "do as I say, not as I do" moment, New Mexico's Democratic Governor asked thousands of employees to take the fiscal hit – even as she was quietly handing out $7,400 to $18,000 pay increases to her personal staff.
Last spring, a little over a month after issuing her first emergency order regarding COVID-19, Governor Michelle Lujan Grisham announced at a weekly press conference the state would need to make reductions in spending because of the economic impact of the coronavirus and the faltering oil prices on state revenue.
She also issued a hiring freeze for state government and, according to a report in the Albuquerque Journal, "suggested the hiring freeze would be one of several cost-cutting moves to be implemented, though she did not provide additional details."
Besides neglecting to provide details about the pending cuts, the governor failed to mention she was giving several of her highly paid staff generous (five-figure) pay raises for the second time in under eighteen months in office.
The raises were given to her Roundhouse staff even as she and legislators were planning to take back the 4% raise promised teachers and state employees just a few weeks earlier.
In a classic 'do as I say, not as I do' moment, the Democratic Governor asked thousands of employees to take the fiscal hit – while she handed out $7,400 to $18,000 pay increases to her personal staff.
Several thousand front-line state, school, and hospital employees paid from state and federal funds make under $30,000/year.
These are workers who make wages President Joe Biden characterized as poverty level pay.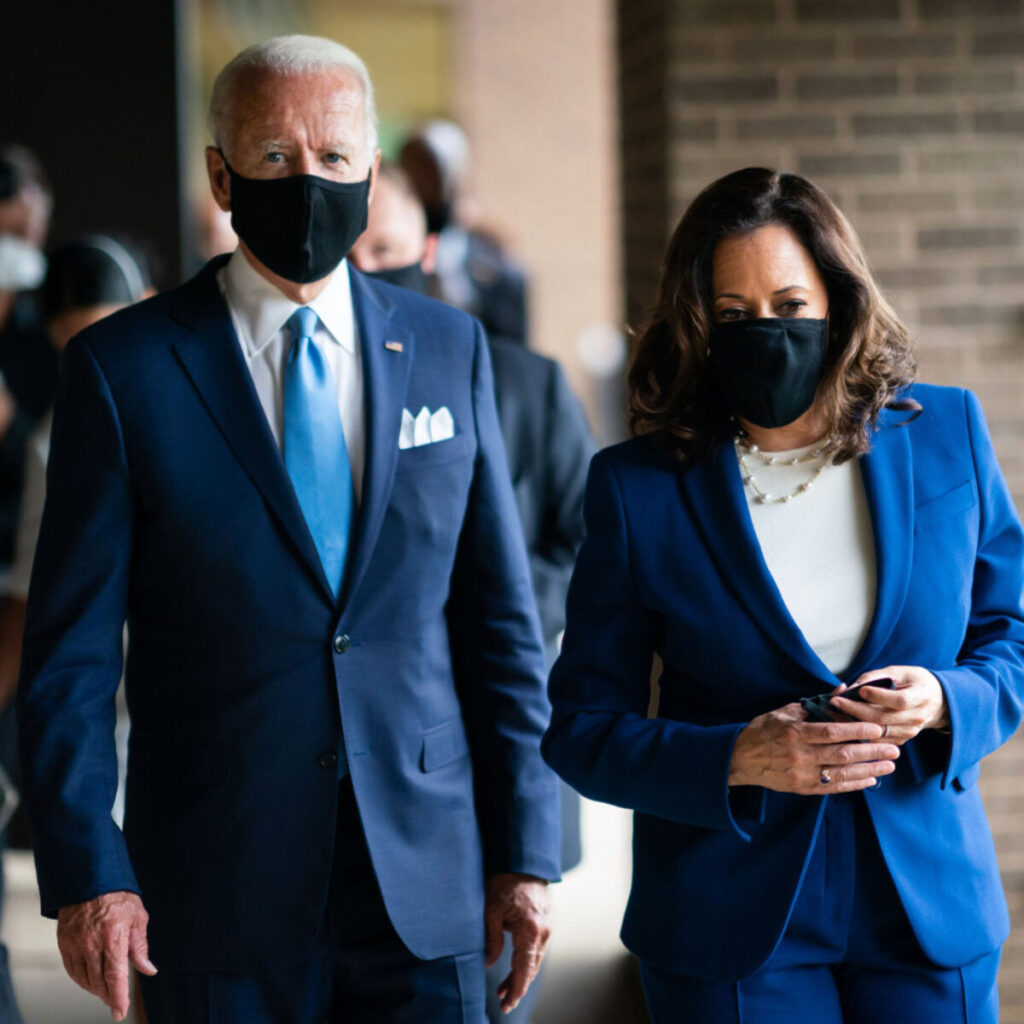 "No one in America should work 40 hours a week making below the poverty line. Fifteen dollars gets people above the poverty line."– President Joe Biden, January 22, 2021.
Thousands of those public employees who were told by the governor they would not get the 4% increase, as was originally approved, are paid under $15 an hour.
For a worker making $12 an hour, that would have been less than $20 more a week.
While discussions were taking place to deny those workers that 4%, the governor had already approved giving the people in her Roundhouse offices between $144 and $357 more per week.
Many of those employees paid those poverty level wages are performing essential services the governor has tasked them to do.
In the Lujan Grisham Administration, those already making the most, get even more.
Diego Arencon, one of the governor's senior policy advisors, was a firefighter in Albuquerque. He headed the city's firefighters union.
Arencon was expected to be a friend of working people due to his many years lobbying on behalf of not only firefighters, but also for a level playing field for all employees.
Many union leaders figured the governor had appointed one of their own to a high position in the state government as her labor advisor.
However, it seems the labor policy advisor's journey to the governor's office took a turn down a self-serving path.
Arencon, a long time favorite of the governor, got his salary boosted from $90,000/year to $125,000/year – just a few months after taking the job as a liaison with the labor community.
(For reference, Arencon's first pay raise of $35,000 was higher than many school and state employees are paid in an entire year.)
Then last spring, less than a year after his first pay raise, and while the working people in New Mexico government were essentially told they would have to suck it up and wait to get even a modest pay raise, Arencon was given another $10,000 raise.
The two raises brought his salary from $90,000/year to $135,000/year, an increase in pay of $45,000, in under two years.
Others in the governor's office also received five-figure pay raises while everyone else was told to hold the line. Here is a chart of some of the favored:
| | | | | |
| --- | --- | --- | --- | --- |
| Name | Position | Spring 2020 | Combined Raises Since 2019 | Current Salary |
| Diego Arencon | Policy Advisor | $10,000 | $45,000 | $135,000 |
| Teresa Casados | Chief of Staff | $10,800 | $16,000 | $146,000 |
| Matthew Garcia | Chief of Staff | $10,649 | $41,015 | $146,000 |
| Dominic Gabello | Cabinet Director | $10,649 | $15,769 | $143,769 |
| Caroline Buerkle | Director of Cabinet Affairs | $10,000 | $24,999 | $135,000 |
| Philip "Tripp" Stelnicki | Director of Communications | $18,600 | $22,000 | $107,000 |
| Victor Reyes | Director of Legislative Affairs | $7,488 | $11,088 | $101,088 |
| Melissa Salazar | Director of Boards and Commissions | $12,000 | $19,999 | $90,000 |
Above information compiled from the New Mexico Sunshine Portal and the official Organizational Listing Report Issued by the New Mexico State Personnel Office.
The Candle tried reaching out to the administration and legislators and emailed the following government officials regarding this story:
Tripp Stelnicki, the governor's communications director was emailed a request to "provide a statement as to why it was necessary to give those raises while others were being asked to hold the line – even front-line workers?"
Stelnicki received a raise of $18,600.
The Candle also sent an email to Victor Reyes, the governor's director of legislative affairs, asking if he had informed legislators last June about the large pay raises given to the governor's staff, as the governor and legislature were cutting back on salary compensation for school and state employees.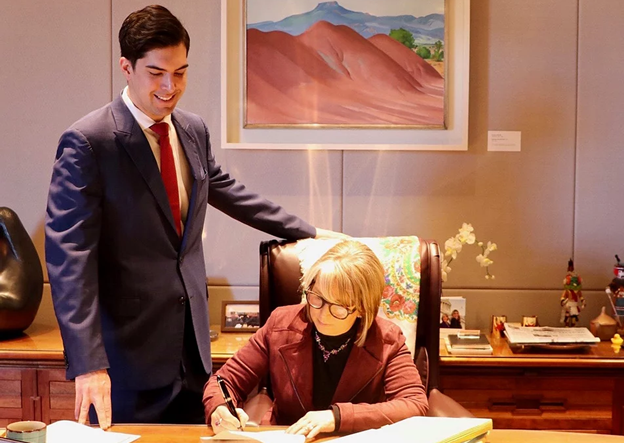 Reyes, while not receiving as large a pay increase as Arencon, was another governor's staffer to receive a hefty pay raise ($7,488) while others went without. Reyes, a longtime political operative, recently announced his candidacy for the 1st Congressional District in New Mexico, expected to be vacated when Congresswoman Deb Haaland is sworn in as U.S. Secretary of the Interior.
Victor Reyes and Governor Michelle Lujan Grisham. From a screenshot of Reyes Campaign Website.
Representative Patricia Lundstrom, Chairwoman of the House Appropriations and Finance Committee, was asked via email, if committee members had been informed by the governor or the governor's director of legislative affairs that she had given her staff generous raises while other employees were asked to tighten their belts.
At the time this story was posted, The Candle had not received a response from Chairwoman Lundstrom, Stelnicki, or Reyes. Will update this report if response is provided.
The Candle did reach former Senator John Arthur Smith, who was Chairman of the Senate Finance Committee last June (when the governor called the legislature back into a special session to cut spending and pay raises for teachers and state employees).
Senator Smith told The Candle that he had not been informed by anyone in the administration that the governor had agreed to give her staff large raises, even as she was cutting back on compensation for everyone else – including essential workers.
The Candle made a request of the State Personnel Office and the Department of Finance and Administration for all records authorizing the spring 2020 pay raises to the governor's senior staff.
More on this story as it develops.