Hanna has left the building … Leaving Behind Six Years of Costly Placebos.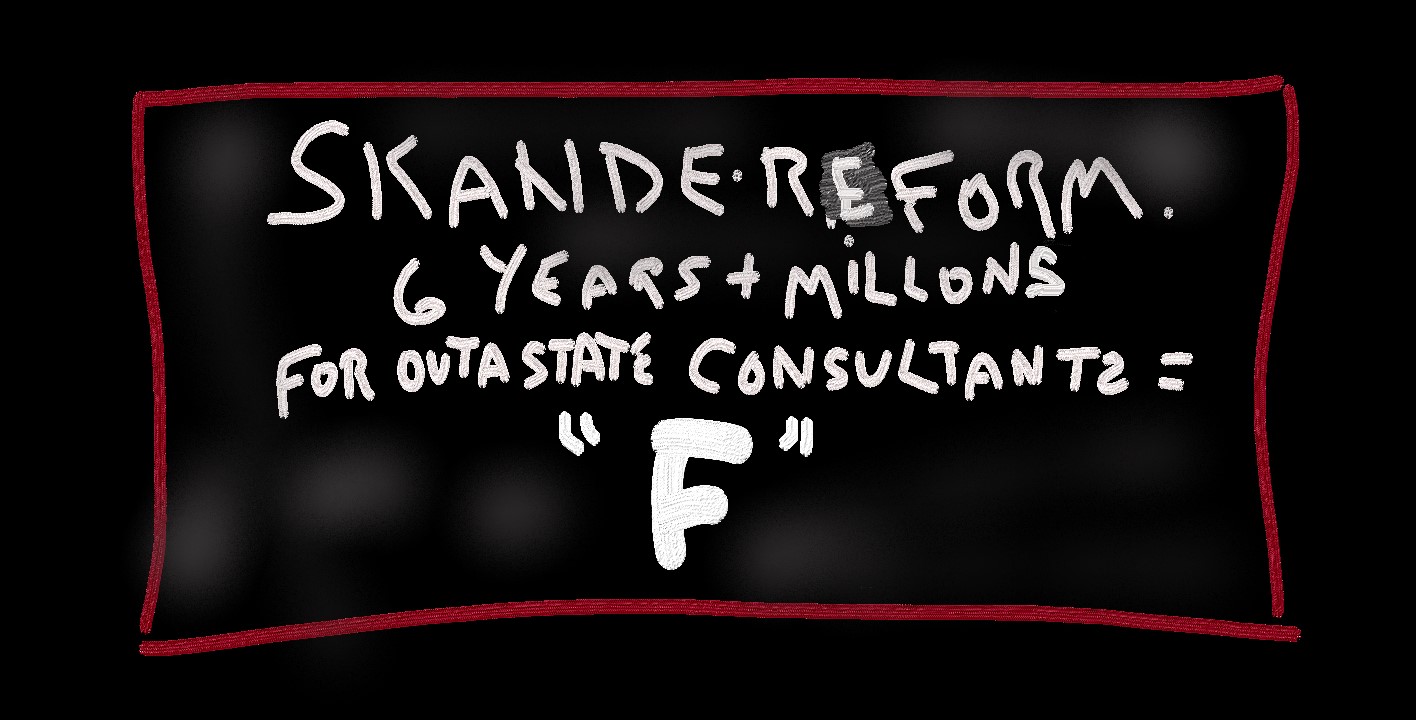 (This is the first in a series of reports reflecting on Hanna Skandera's six and a half years leading New Mexico's Public Education Department – controversial reform measures and millions spent on consultants, hotels, travel, videos, and public relations.)
In December of 2010, when Susana Martinez chose Hanna Skandera to be New Mexico's Secretary of the Public Education Department (PED), the business community, and conservative organizations could not contain their joy –  Hanna was a private-sector education rock star.
Rio Grande Foundation President Paul Gessing prattled, "… Martinez's pick of Hanna Skandera to head up PED shows that she is serious about making needed reforms to our K-12 system. This is an early Christmas present to New Mexico parents and students."[1]
Think New Mexico's Fred Nathan gushed "…Skandera is a true education reformer and a data driven proponent of smaller schools. Her selection is especially good news for public school children and their parents seeking smaller learning environments." (As quoted from article by Heath Haussamen in his NM Politics.net, on .)
Then Governor-elect Martinez stated her nominee, "… is a proven reformer who has successfully implemented education innovations and achievement-based reforms for two of our nation's governors.  She shares my belief that we must focus on implementing reforms that improve student achievement here in New Mexico, rather than simply throwing more money at a failed system."[2]
For her part Skandera said the new governor had directed her "to reform a system that has failed young New Mexicans, and we will do so by raising standards, rewarding excellence and re-focusing our attention on classroom achievement."
Skandera added, "The foundation for these bold changes is an approach to education that puts students first." [3]
Six and a half years later, as she was packing up her office, Skandera told Albuquerque Journal's Kim Burgess "New Mexicans can be proud as they look across the nation that there is no other state, actually, that has embraced this much change, not rolled any of it back, pressed in and begun to see all their objective measures going up."
Skandera's assessment is not unexpected – especially the claim New Mexico's public schools have improved because of her controversial programs – as she has always been her own best cheerleader.
And, regardless of what anyone may think of her reforms, she has certainly earned her position amongst the movers and shakers in national efforts to make K -12 education fit into a corporate accountability mold.
Now after six years of slogans, acronyms, and hype, let's see what she left behind.
The Candle decided to look closely at the tenure of the Hoover Institution fellow and Pepperdine graduate who claimed that her bold changes would put "students first."
In a recent article for Education Week, Rick Hess noted that Skandera has been "…one of the nation's longest-serving state chiefs…" He also made reference to the controversial nature of her reform measures, writing "… Hanna has been in the middle of some of the fiercest debates over contemporary school reform."
Hess suggested that, "Given a background working in senior roles with former governors Jeb Bush and Arnold Schwarzenegger and with then-U.S. Secretary of Education Margaret Spellings, Hanna came to the job with hard-won experience and a clear point of view on how to pursue reform."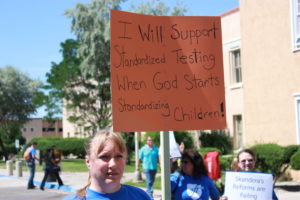 Skandera's controversial reforms were based upon the so-called 'Florida Model,' and she convinced her boss to give her a free hand in upending the education system for K-12 students. 
In a statement released by PED on January 18, 2011, less than a month after starting her new job, Skandera claimed, "For years, New Mexico schools have ranked among the worst in the nation, failing our students. Now it's time to take bold efforts to ensure our children receive a quality education that will prepare them to succeed in college and the workforce."
That statement was released the same day PED's "Kids First, New Mexico Wins" education reform agenda was unveiled in the governor's first state of the state address.
The "Kids First, New Mexico Wins" plan promised the following according to the PED statement:   
A Smarter Return on New Mexico's Investment

: An initiative to prioritize classroom spending over bureaucracy and return fiscal discipline to our Department and to local school districts. The needs of students must drive education policy and spending.

Real Accountability. Real Results

: To provide maximum transparency when it comes to the quality of our schools, this initiative creates an easy to understand A, B, C, D, F school grading system. Real accountability in our schools will recognize and reward progress, reverse failure and help struggling schools and students.

 

New Mexico's "Ready for Success" Initiative

: To prepare students to succeed throughout their academic careers, this initiative ends social promotion – the practice of passing children from one grade to the next before they have mastered the basics – in the gateway years of 3rd, 5th and 8th grades. A command-focus on reading and literacy initiatives will ensure all students have the foundation for success in school and life.

 

Rewarding Effective Educators and Leaders

: To ensure all students have access to great teachers, this initiative will create a blueprint for evaluating, rewarding and incentivizing effective teaching and leadership in our schools and districts.

 
The new governor contended in her state of the state speech that New Mexico had failed its students and that New Mexicans "must end the culture of low expectations. Stop accepting failure."
In an effort to support her argument, Martinez pointed to a report from a respected education publication, saying "When it comes to educating our children, we can no longer throw more and more money at the same system and expect different results. A recent report by Education Week gave the system a failing grade – that's an "F"– on student achievement."
The Candle looked at the Education Week report the governor referred to, and which had been released just days before the governor's speech, and compared it to a report issued six years later by the same organization using similar measures, in January of 2017.
From the  January 2011 Education Week Report (click here for report) –
"The report reintroduces its K-12 Achievement Index, which evaluates the strength of a state's performance against 18 individual indicators that capture: current achievement, improvements over time, and poverty-based disparities or gaps … Four states—Louisiana, Mississippi, New Mexico, and West Virginia—and the District of Columbia receive grades of F on the index…"
"…The nation receives a C-plus on the report's annual Chance-for-Success Index, the same grade as last year.  Massachusetts earns the only A and remains at the top of the national rankings … New Mexico and Nevada receive the lowest scores, with grades of D-plus and D respectively. The EPE Research Center's Chance-for-Success Index provides a detailed look at the role that education plays as a person moves from childhood, through formal K-12 education, and into college and the workforce." – From "Report Awards State Grades for Education Performance, Policy; Nation Earns a D-plus on Achievement, Some Movement Seen  On Reform Initiatives Despite Recession"- Education Week Research Center Press Release, January 11, 2011.
From the  January 2017 Education Week Report  (click here for report) –
"The Education Week Research Center's K-12 Achievement Index, last updated in 2016, assesses the performance of a state's public schools against 18 indicators capturing: current achievement levels, improvements over time, and poverty-based gaps. The nation earned a C-minus for K-12 Achievement–a grade that has remained steady over time. Massachusetts (85.2) ranked first, posting the only B. It has been the leader in the rankings for nearly a decade. New Jersey (81.0), the only other state with a grade higher than a C-plus, earned a B-minus. Mississippi (60.0) and New Mexico (61.8) received the nation's lowest grades at D-minus." – From "Quality Counts Report Examines State Scramble to Put Federal ESSA Law Into Effect"- Education Week Research Center Press Release, January 4, 2017.
"Quality Counts' signature Chance-for-Success Index—which captures the role of education in a person's life from cradle to career—shows the nation earning a C-plus in 2017, holding steady in its efforts to promote positive learning experiences for youths and opportunities for adults to make good on a good education. For a decade now, Massachusetts has stood at the top in this category and continues to lead the nation with a grade of A-minus (91.0). New Hampshire is the only other state to earn an A-minus (90.3) and is followed by three states at B-plus—New Jersey (87.8), Connecticut (87.4), and Vermont (86.8).  At the low end of the rankings, New Mexico is the sole state to receive a D (66.4)."
Taken together, and noting the millions of dollars Skandera threw at her reforms from 2011 to 2017, the two reports belie Skandera's assertions to the Journal's Kim Burgess "that there is no other state, actually, that has embraced this much change, not rolled any of it back, pressed in and begun to see all their objective measures going up."
In reality, during Skandera's tenure, New Mexico saw little positive movement in the national assessments, while watching the overall state grade drop and the ranking given by Ed Week drop – from 32nd place to 48th place from 2011 to 2017 – third worst in the country.
And back when Governor Martinez made her 2011 state of the state speech, pointing out the failing grade of "F" from Education Week's 2011 report, she used only one of several Ed Week measures assessing New Mexico's education standing.
It's significant the governor did not mention the overall state grade of "C" which New Mexico had received in that same 2011 report; a grade that was developed by looking at several measures used in assessing primary and secondary education opportunities.
Look at Table 1, below.
It certainly throws cold water on Skandera's assertions that her reforms are working. It represents four measures Education Week used both in 2011 and 2016/17, in assessing grades to New Mexico.
After several years of Skandera's agenda, and PED's prolific spending specifically on her initiatives during those years, New Mexico actually did worse in two of the four measures, and showed minimal improvement in only one of the other two.
---
Table 1
State/Year

Overall State Grade (EdWeek)

 

K – 12 Achievement (EdWeek)

Chance For Success (EdWeek)

School Finance (EdWeek)

New Mexico 2011

C

F

D+

C-

New Mexico 2017 (2016 is latest data in EdWeek Report for K-12.)

D

D-

D

 

C-
(All fifty states and the District of Columbia grades can be seen by clicking on the following: EdWeek 2011 and EdWeek 2017.)
---
There are other organizations which review and rank the education efforts, successes, and failures, of the fifty states and the District of Columbia. 
Most, if not all, rank New Mexico at or near the bottom of their rankings, offering further evidence of the failure of Skandera's so-called "bold reforms to improve the quality of education for every New Mexican student."
As represented in real numbers, not hyped rhetoric, reports done by the U.S. Chamber of Commerce Foundation, entitled "Leaders & Laggards – A State-by-State Report Card on K-12 Educational Effectiveness," while recognizing some improvement, continue to give New Mexico an "F" in Academic Achievement. 
Remember the first 'reform' in PED's "Kids First, New Mexico Wins: A Smarter Return on New Mexico's Investment?"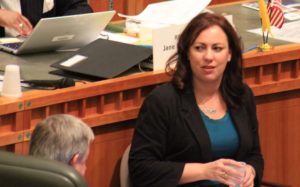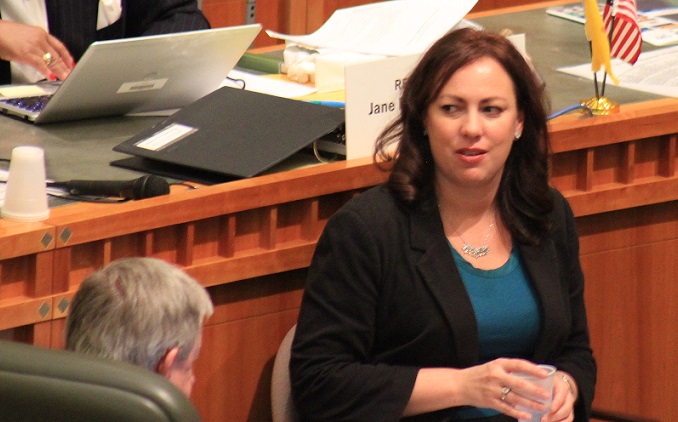 Well, Skandera's plan misses the mark there as well – the Chamber Foundation gave New Mexico an "F" on Return on Investment and Postsecondary and Workforce Readiness.
According to the Chamber's 2014 Leaders and Laggards report, "Despite improvement since our last report, student performance in New Mexico is very weak—the state ranks among the lowest in the nation."
The report also gave New Mexico "a failing grade preparing its students for college and careers."
Two other education surveys, one reported by U.S. News and World Report (2017) and the other by WalletHub (2016), placed New Mexico at the bottom of the rankings on public school education –  the 48th and 50th positions.
In the second installment, The Candle will dissect the spending Skandera orchestrated during her six and a half years in charge of the largest budget among all state agencies. And the second installment will likely be reported in at least two and possibly three parts.
In the third installment of this series, The Candle will report with more specificity on what PED has done programmatically for New Mexico students, including a comparison of Skandera's approach and that of education departments in states that have consistently proven to be successful, and states that have seen real improvement.
---
[1] The Watchdog, New Ed Secretary: "The Florida Model" comes to New Mexico. By Rob Nikolewski / December 21, 2010
[2] GOVERNOR-ELECT MARTINEZ NOMINATES HANNA SKANDERA AS PUBLIC EDUCATION SECRETARY – Martinez Transition Team Pres Release, December 21, 2010. Link: https://www.martineztransition.com/press/2010/12/governor-elect-martinez-nominates-hanna-skandera-as-public-education-secretary/
[3] Ibid.