Restoring Democratic Principles: Our Common Responsibility. Guest OpEd/Announcement.
By Guest Contributors Tony Beattie and Margaret Scarsdale 
PEPPERELL, Massachusetts – Continuing its emphasis on citizen education and engagement, Pepperell's Democratic Town Committee will host Dr. Steven Levitsky, noted American political scientist and professor of Government at Harvard University, to discuss his new book, "How Democracies Die."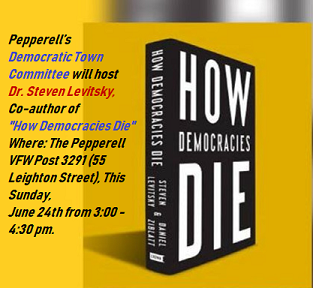 The event will be held at the Pepperell VFW Post 3291 (55 Leighton Street), Sunday, June 24th from 3:00 – 4:30 pm.  
The event is free and all are welcome.
To register by clicking on:
https://PepperellDTC.eventbrite.com
Dr. Levitsky — and co-author Daniel Ziblatt — have spent more than twenty years studying the breakdown of democracies in Europe and Latin America and are now turning their focus on the United States.
The authors note that democracies are no longer dying through military coups and "violent seizures of power," but are being undermined through the legal actions of elected officials, the courts, and the ballot box.
In other words, there aren't unifying "red flags" — like soldiers on the streets or the suspension of elections — that mobilize citizens.
Instead, "[c]onstitutions and other nominally democratic institutions remain in place. People still vote. Elected autocrats maintain a veneer of democracy while eviscerating its substance."
In the face of this — and even in a time of seemingly entrenched partisan divide — the authors offer a path to restoring vital political norms by emphasizing respecting foes as worthy opponents, and restoring power to "We, the people."
The Lawrence Library in Pepperell will have extra copies of "How Democracies Die" available thanks to the generosity of Democratic Town Committee members.
This is the third in an on-going free series brought to the community by the Speakers Series Committee of the Pepperell Democratic Town Committee.