Democratic House Leaders Saddle Up for another Hydrogen Hub Session taking more than $494,637 of Energy-interest Campaign Cash.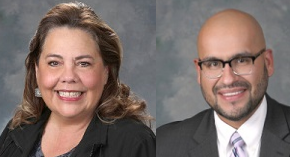 With Their Democratic Leadership Saddlebags Stuffed with over $490,000 from Oil, Gas and Related Energy Interests, Are House Finance Chair Patty Lundstrom and soon-to-be Speaker Javier Martinez Helping Stack the Deck for a Hydrogen Hub Session?
"So, Secretary Kenney, Saddle Up!
"Because we're going to have another round of hydrogen this session."
Those were remarks made by House Finance Committee Chairwoman Patty Lundstrom on Wednesday, January 11, 2023, as she opened a meeting of the New Mexico Legislative Finance Committee for a "Hydrogen Hub Update."
(Secretary Kenney is Governor Michelle Lujan Grisham's point-man advocating for the Hydrogen Hub. Kenney has spent much of his time since at least the Spring of 2021 using the agency he heads to advocate for the Hydrogen Hub. As he said in an email to a Hydrogen Hub advocate, "It's all hydrogen all the time here!")
What Lundstrom did not mention in any of her remarks, was that she and a handful of House Democratic Leaders have been stuffing their campaign bank accounts with over $490,000 from oil, gas and related energy interests anxious to get access to public dollars for their corporate enterprises.
The soon-to-be new Speaker of the New Mexico House of Representatives, Javier Martinez – a self proclaimed "progressive Democrat"- is one of the biggest beneficiaries of the largess of the oil and gas and related private interests in the Hydrogen Hub legislation.
Martinez accepted over $70,000 for his personal campaign committee as well as helping to raise more than $150,000 for "The Speakers Fund" – a stand alone leadership political campaign committee – from these same energy industry interests.
Traditionally, a Speaker has a lot to do with both the fundraising and use of campaign money of "The Speakers Fund."
The Candle emailed Martinez last week for his comments – he has chosen not to respond. (Readers can find text from our email to Martinez near the end of this article.)
The investment by these oil, gas and other energy interests seems to be paying off.
The meeting provided a forum for three of Governor Michelle Lujan Grisham's Cabinet Secretaries, the Deputy Director of Los Alamos National Laboratory, and a vice-president of Corporate and Public Policy of Conoco Phillips – all advocates of the Hydrogen Hub.
They were provided with almost two hours of the Committee's attention to their efforts.
Although several individuals representing organizations of record opposing the Hydrogen Hub were able to provide a brief statement (limited to two minutes each) at the end of the meeting, it was clear that Lundstrom and her allies had stacked the official agenda with only proponents of her bill.
Lundstrom also announced the Legislative Finance Committee (LFC) would meet on Monday, January 16, 2023 – the day before the opening of the legislative session – to consider "endorsement for another Hydrogen Bill."
The currently posted "tentative" agenda lists 10:30 AM as the time members of the LFC will address endorsement of legislation; the committee will also address several other maters unrelated to Hydrogen Hub issues at this scheduled meeting.
The meeting held last Wednesday, however, was a two hour session dedicated solely to the Hydrogen Hub that Lundstrom and Governor Lujan Grisham's failed to create by legislation last year, but that the Governor kept alive and growing through an executive order and memorandum of understandings spawned by Kenney's Environment Department.
The bill offered last year failed to pass due to the strong objections of almost all environmental advocacy groups due to their fear that the legislation would not actually address global warming and is mostly a cover for efforts to protect the interests of extractive minerals industries.
Martinez and Lundstrom were not the only House Democrats in leadership positions accepting money from the energy industry related donors.
Other so-called progressive Democratic House members, and other Democratic House veterans, eagerly shared hundreds of thousands of energy-interests campaign cash as they planned to give tax breaks and invest millions of tax-payers dollars in so-called public-private-partnerships.
Representative Nathan Small, the Vice-Chairman of the House Finance Committee, took more than $45,000 in the energy-interest lobby's money.
Before the meeting of the LFC on Wednesday, The Candle wrote to Representative Small asking for an interview regarding his "efforts on behalf of the so-called Hydrogen Hub legislation for a story The Candle is going to publish."
An email was also sent to Representative Martinez asking if he would be willing to discuss the more than $70,000 his campaign took from corporate-related energy interests, and the $150,000, received by "The Speakers Fund" campaign committee.
The following is from the email The Candle sent to representative Martinez:
"…you might remember when we talked last summer, as you were likely to be the new leader of the House Democrats I asked if you had a responsibility to explain to the people in New Mexico who are financially and socially discriminated against, how you and your colleagues, as a majority caucus, can square the vast amounts of corporate-sourced dollars you have taken in your campaigns with the protections and advocacy you have promised.
"Several days ago, you wrote a fundraising email asking for more money from the community that advocates things like better and affordable housing, a safe environment, living wages, quality education, voting rights, etc., yet you have not let them know how much money you and your colleagues have taken from interests that historically fought against those protections…
"…Our research of campaign finance reports shows that House Democratic leadership and budget leaders received close to $500,000 from deep pocketed energy interests between June of 2021 and the end of 2022 – over just 18 months.
"According to the records your campaign committee took more than $70,000 from such corporate-related energy interests during that time.
"The Speakers Fund also took more than $150,000, from many of the same interests.
"You are expected to be formally elected the new Speaker of the House of Representatives early next week.
"Would you be willing to speak with me about the campaign contributions referred to above, and the money Demo[c]ratic leaders took from other special interest such as landlord groups, drug companies, tobacco companies and lobbyists, etc.?"
So far, neither Small nor Martinez have responded.
(The Candle will be reporting on the campaign contributions received from energy entities by other members of the House, the Senate and Governor.)
The following represents some of the campaign money received by key House Democrats from energy special interests since the Hydrogen Hub legislation started to be pushed (originally out of public sight) by Lundstrom and Governor Lujan Grisham in June of 2021:
Javier Martinez's Campaign: $73,650.00
The Speaker's Fund: $150,937.50
Nathan Small's Campaign: $45,650.00
Reena Szczepanski's Campaign: $18,600.00
Patricia Lundstrom's Campaign: $88,850.00
Brian Egolf's Campaign: $20,200.00
Doreen Yvonne Gallegos Campaign: $43,100.00
Harry Garcia Campaign: $21,300.00
AntonioMaestas Campaign: $28,350.00