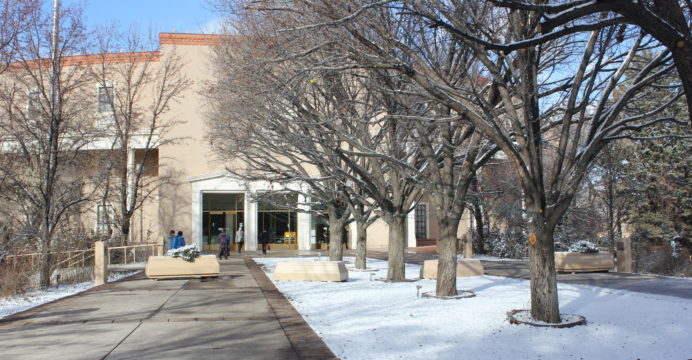 Rural health care. A big (underfunded) problem in New Mexico.
Rural health care. A big issue in New Mexico.
As the state nears the end of "Public Health Week in New Mexico" (click here for Governor Martinez's Proclamation declaring so from April 2-8, 2017), The Candle is shedding a little light on several articles that appear in the latest New England Journal of Medicine (This Week at NEJM.org | April 6, 2017), regarding rural healthcare.
[There are links to each of these NEJM articles at the end of this posting.]
One of the stories is written by Heather Kovich, M.D., chief of staff at Northern Navajo Medical Center in Shiprock, New Mexico.
Her article is entitled, "And How Long Will You Be Staying, Doctor?"
Doctor Kovich writes a very personal account which goes to the heart of the problem of keeping doctors in rural New Mexico, as well as awakens the heart of anyone who has experienced the day to day dilemmas of dealing with family healthcare issues from diabetes, alcoholism, birth control, and many other afflictions or conditions of poor health.
Another of the NEJM articles discusses the correlation of poverty with behavioral and developmental care for children of rural communities, opening with:
"The Centers for Disease Control and Prevention (CDC) has just offered further evidence that American children — and rural children in particular — are in trouble. Previously, the CDC had noted that poor U.S. children 2 to 8 years of age have higher rates of parent-reported mental, behavioral, and developmental disorders (MBDDs) than their wealthier counterparts. Now, in the latest of a series of reports, the agency documents the finding that rural children from small communities are more likely to have MBDDs than those living in cities and suburbs."
This is not a new revelation to health care providers serving New Mexico's rural populations. But it continues to be a problem.
The legislature and the executive branches of government correctly look to enhancing the financial side of the health care ledger by trying to leverage more Medicaid and other federal or grant monies.
But it appears that the focus is primarily on financing and not equally tuned to the day to day problems with delivering needed health care and providing sufficient providers to these vulnerable constituencies.
In the budget proposed by the legislature and sitting on the Governor's desk this week, the Department of Health saw an overall decrease from the department's original FY 2017 approved budget (prior to the cuts and sweeps of October 2016, and January 2017) of $9.6 million.
Unfortunately, both the Democratically controlled legislature and the Republican controlled administration have taken savings from transferring many responsibilities to Medicaid funding to be used to offset overall fiscal issues caused by a poor economy and reduced revenue, and the delivery of needed services becomes another victim.
As previously reported by The Candle, when legislators announce that they are "investing in families and communities" with their recently so-called flat budget, they neglect to acknowledge the real reductions in spending on needed services for the poor, especially children in rural areas.
Given the high rate of poverty in New Mexico, especially relating to families and children, New Mexico's lawmakers need to pay more attention to the impact of their running away from sufficiently funding programs that could improve rural access to better health care.
Problems are exacerbated by the failure to create jobs in rural areas as well. 
In a report issued in May of last year by the United States Department of Agriculture (USDA), entitled "Understanding the Rise in Rural Child Poverty, 2003-2014," authors and researchers Thomas Hertz and Tracey Farrigan write:
"During the early years of the recovery, income trends diverged: urban families with children experienced income growth of 1.0 percent (not significant) while incomes in rural areas continued to slide, by 3.3 percent, for families with children. This difference is one of the key forces driving the divergence between child poverty trends in urban and rural areas: the first years of the national economic recovery did not translate into gains in average family income for rural families."
This income recovery disparity is also a contributing factor to proper care, as these rural areas with depressed economies find it difficult to recruit heath care providers.
Both what was proposed by the Governor, and what was passed by the legislature for a FY 2018 state budget fall short of the promises made by elected officials to protect children and families.
If there is a special session dealing with the budget, these funding deficiencies need to be addressed.
---
Links to New England Journal of Medicine Articles:
NEJM – Out of Sight, Out of Mind — Behavioral and Developmental Care for Rural Children 
NEJM – And How Long Will You Be Staying, Doctor?
NEJM – The Maternal Health Compact