With 52,152 Terminations, NM Has Highest Percentage of Persons Dis-enrolled From Medicaid for "Paperwork" Issues
96% of all people disenrolled for Medicaid in New Mexico had their coverage terminated for "procedural reasons."
Earlier this year, as the COVID 19 emergency crisis was ending, the Centers for Medicare & Medicaid Services (CMS) notified states that they needed to prepare to revisit Medicaid eligibility determinations.
CMS also warned states that they should do so with an abundance of caution and preparation so as not to disenroll people who are actually in need.
And just yesterday, according to a story in FIERCE Healthcare by Noah Tong, the deputy administrator of CMS, Daniel Tsai, told reporters, "We have been emphasizing it is not enough for states to simply follow federal minimums when it comes to Medicaid enrollments," he added. "We are really asking every state to take up a whole host of policy waivers and strategies."
But it seems many eligible recipients are finding their Medicaid terminated – including more than 52,000 so far in New Mexico.
Other related reporting from KFF, an "independent source for health policy research, polling, and news," which has been regularly tracking and charting Medicaid enrollment and unwinding since earlier this year, reveals New Mexico has likely not addressed the CMS concerns as the state disenrolled more than 52,000 Medicaid recipients since April of 2023 for "procedural reasons."
In addition, New Mexico is falling behind in the renewal process with more than 69,000 of 201,000 applications still being processed.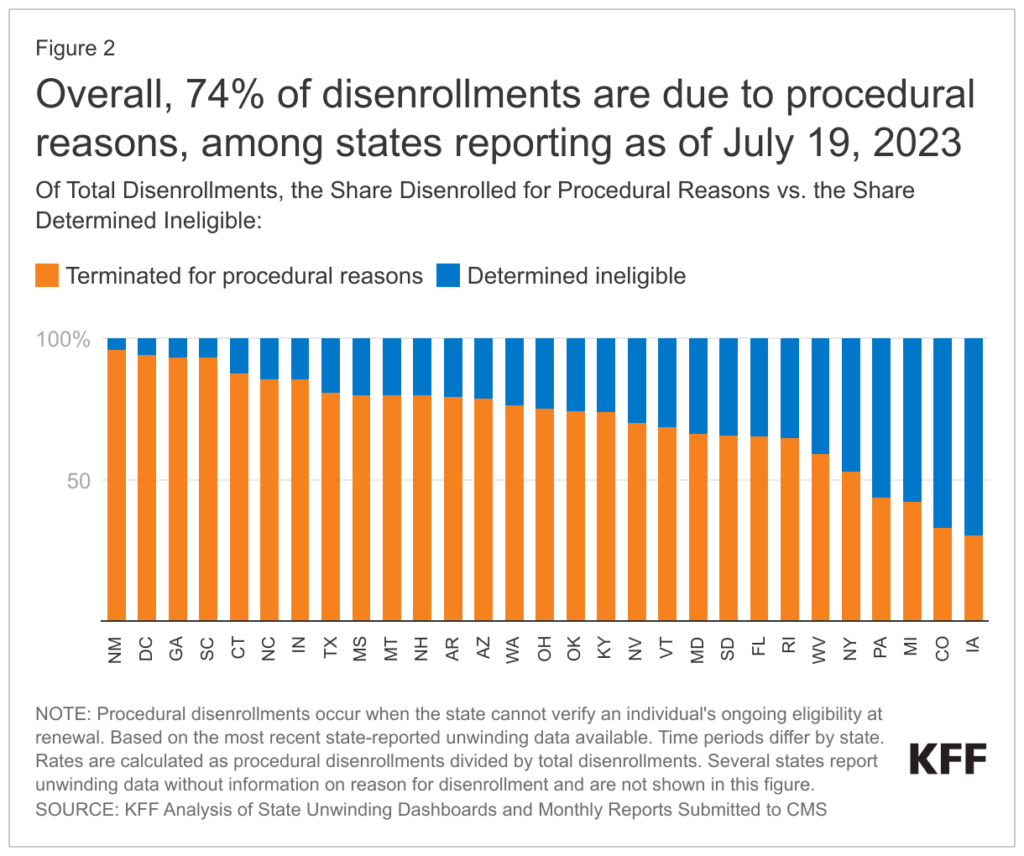 (Chart above is from July 19, 2023, KFF Report, entitled: "Medicaid Enrollment and Unwinding Tracker.")
"Across all states with available data, 74% of all people disenrolled had their coverage terminated for procedural reasons. There is also wide variation in rates of procedural disenrollments across states reporting this breakout, ranging from 96% in New Mexico to 30% in Iowa. Procedural disenrollments are cases where people are disenrolled because they did not complete the renewal process and can occur when the state has outdated contact information or because the enrollee does not understand or otherwise does not complete renewal packets within a specific timeframe. High procedural disenrollment rates are concerning because many people who are disenrolled for these paperwork reasons may still be eligible for Medicaid coverage." – From the KFF Report. (Emphasis added.)
Did Lack of Preparation Result in New Mexico Having the Highest Percentage of People Disenrolled Due To Paper Work Failure?
Despite CMS warnings, the New Mexico Human Services Department's disenrolling more than 52,000 people because of "paperwork" suggests it did not adequately prepare to deal with the requirements to process renewals in a manner that was not harmful to recipients that likely would still be eligible.
KFF analysis of state of New Mexico data, found that "as of June 2023, 78,181 enrollees renewed their coverage and 54,399 enrollees were disenrolled, including 2,247 who were determined ineligible and 52,152 who were terminated for procedural reasons." (Emphasis added.)
While the KFF report is of 33 states that are reporting renewal data, it appears that New Mexico state government has again found itself leading the list of states failing those in need in yet another governance metric – simply getting the paperwork processed.
34% Of New Mexico's Population is Covered by Medicaid/CHIP
New Mexico, has 890,778 residents enrolled in NM Medicaid – due in part to approximately 39% of the state's population having low incomes.
That translates to about 34% of the population covered by Medicaid – the highest percentage of Medicaid residents of any state.
(Link to the KFF Medicaid Enrollment and Unwinding Tracker by clicking here.)