About The Candle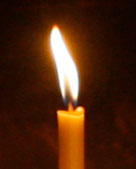 "Facts are stubborn things; and whatever may be our wishes, our inclinations, or the dictates of our passions, they cannot alter the state of facts and evidence." – John Adams
According to several esteemed and reliable sources, very soon in the history of the world, and sadly once again, 1% of the population will control more than 50% of the wealth.
During the past four decades working people have been battered around by those interested in consolidating wealth, and used as props by pretenders to the legacy of inclusionary growth delivered by such giants as Adams, Lincoln and the two Roosevelts.
The resultant abuse of governance and its consequential economic development is evidence of at least 35 years of failure by the four estates of America's system to adequately protect all of its people.
It seems to us that the system is not that bad. If people participate they can control their own destiny.
But those behind many of the mannequins who have rose to power inside and outside of government and industry, have shrewdly manipulated the hope and promise of America.
These manipulators developed a very simple plan which began with taking control of most of America's media, and devolving it into an unabashed public relations firm obscuring serious coverage of abuses in government and in economic development strategies, and infomercializing broadcast and cable news.
We at The Candle refuse to let these enemies continue their assault on the hope and promise of all Americans – especially the workers and the disadvantaged – without being challenged.
Write to us with your thoughts, story ideas, and especially behind the scenes information. We have some incredible sources, which we protect solidly, and we are encouraged by how many others are coming forward with information that powerful people have attempted to hide.